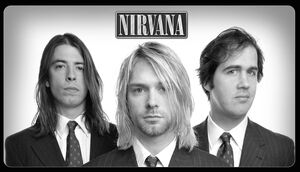 Set Description
Edit
With the Lights Out is the title of Nirvana's 2004 4-disc boxset. The 3 CDs mostly represent the 3 Nirvana eras of Bleach, Nevermind and In Utero, respectively. The DVD is every era on one disc. The tracks are mostly demos and B-Sides, but there are a few live tracks, mostly on the DVD though.
Track Listing
Edit
The 2nd song on the 1st disc, Annorexcist, is misspelled 'Anorexorcist.'
The real title of "Mrs. Butterworth" is unknown.
The inner packaging is made of heat-sensitive material, so when you touch it, images of session tapes are revealed
The title of "Help Me, I'm Hungry" was a name invented by bootleggers. Released November 2004.
Liner notes
Edit
The liner notes place the tracks in historical contest, and feature essays by Thurston Moore and Neil Strauss.
Ad blocker interference detected!
Wikia is a free-to-use site that makes money from advertising. We have a modified experience for viewers using ad blockers

Wikia is not accessible if you've made further modifications. Remove the custom ad blocker rule(s) and the page will load as expected.