Smells Like Teen Spirit

Smells Like Teen Spirit cover
Navigation guide
Last Song
N/A
Next Song
In Bloom
Smells Like Teen Spirit was considered the most well known song by the band, Nirvana. It has been voted the best song of the 1990's on several music programs including VH1's program Best Song Of The 90's.  "Smells Like Teen Spirit", was voted by Rolling Stone Magazine and MTV as the 3rd best pop song out of 100 of all time.
Kurt Cobain has often said the this song was just a big pop intro for Nevermind. The title of the song was suggested by Kurt after one of friends, Kathleen Hanna, spray-painted "Kurt Smells Like Teen Spirit" on his apartment wall. Teen Spirit is a name of a deoderant for women, Kurt might have used it or is she or someone else put it on him, making him "Smell Like Teen Spirit".
Flim Clip
Edit
The film clip was directed by Samuel Bayer and was shot at GMT Studios on August 17th 1991. The film clip is set in a school basketball arena. The clip features a janitor, cheerleaders and some spectators who jump up and down. All of them are played by actual Nirvana fans.
Unplugged
Edit
Voting polls have shown that Smells Like Teen Spirit was the song most looked forward to at the unplugged gig. It was not played because the band knew that the song would not work with acoustic instruments.
Smells Like Teen Spirit has been covered by many celebrities and thousands of fans on various online communities, particularly Youtube.
Miley Cyrus - Covered the song on her Gypsy Heart Tour.
Paul Anka - Covered the song on his album "Rock Swings".
Tori Amos - Covered the song on her EP "Crucify".
The Melvins - Covered the song on their album "The Crybaby".
One Ok Rock - Covered the song on a Japanese tribute album "Nevermind Tribute".
Man With A Mission - Covered the song on their EP "Trick or Treat"
Smells like Teen Spirit was featured in the game Guitar Hero 5 as well as Lithium. Kurt Cobain is also a playable character in this game.
Kurt Cobain actually disliked this song because it was being used in many commerical including the Teen Spirit deoderant commericals. During concerts, Nirvana would play it badly.
There are separate tracks of the song, including Vocals, Guitar, Bass, and Drums all aparted from the song. The same goes for In Bloom.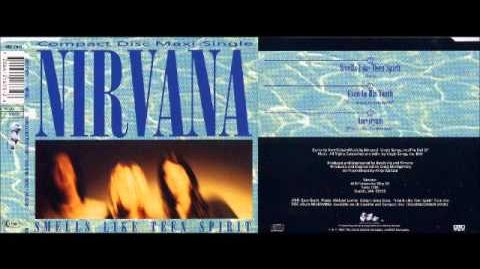 Ad blocker interference detected!
Wikia is a free-to-use site that makes money from advertising. We have a modified experience for viewers using ad blockers

Wikia is not accessible if you've made further modifications. Remove the custom ad blocker rule(s) and the page will load as expected.