Dave Foster
was the 3rd Nirvana drummer. He played in very few performances before he was fired. Most of the reason for him being fired was that he was incapable of attending many rehearsals. This was because he lived too
far away from where they rehearsed, and they were unable to pick him up from Aberdeen all the way to Tacoma, where they rehearsed. The last straw, according to Kurt Cobain, was when he got arrested, having assaulted the son of the mayor of Cosmopolis, Washington. He got 2 weeks in jail for this. Dave was not told that he
had been fired. He was only aware of it when he saw an advertisement for them playing, which he had not been told about. Kurt had written him a long letter about this, but it was never sent. After Nirvana, Dave Foster played in Suckerpunch, Psycho Samaritan and Hell Trout, as well as a guest drummer on the Mico de Noche album Cherries.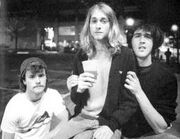 Ad blocker interference detected!
Wikia is a free-to-use site that makes money from advertising. We have a modified experience for viewers using ad blockers

Wikia is not accessible if you've made further modifications. Remove the custom ad blocker rule(s) and the page will load as expected.