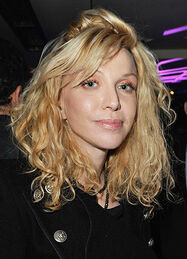 Courtney Love is an American musician, artist, actress and singer-songwriter. She was married to
Kurt Cobain
 from 
February 24, 1992 to his death in April 1994. They had one daughter together named Frances Bean Cobain. She was the lead singer of the band Hole who were active from 1991-1998 and released a new album in 2010. Love released a solo album in 2004 named America's Sweetheart.
She popularized the Kinderwhore fashion image used in the early to mid 1990's.
Personal life

Edit
Love is a Nichiren Buddhist. In the past, she has experimented with other faiths like Christianity and Scientology, but has found that Buddhism reasons with her more. She chants nam myoho renge kyo daily and is a member of the Soka Gakkai international.
Ad blocker interference detected!
Wikia is a free-to-use site that makes money from advertising. We have a modified experience for viewers using ad blockers

Wikia is not accessible if you've made further modifications. Remove the custom ad blocker rule(s) and the page will load as expected.