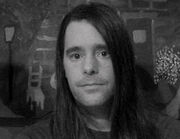 Chad Channing
is an American musician from California.
He reportedly played drums for the bands Stonecrow and Tic Dolly Row before Nirvana.
From 1988 to 1990, he played drums for Nirvana. His departure in 1990 was cited as a mutual agreement between he and his former band members.
He's played in several bands since Nirvana.
He now sings and plays bass for the rock band Before Cars. They released a single in 2006 titled "Old Chair".
Ad blocker interference detected!
Wikia is a free-to-use site that makes money from advertising. We have a modified experience for viewers using ad blockers

Wikia is not accessible if you've made further modifications. Remove the custom ad blocker rule(s) and the page will load as expected.